Ancient Battles of the Greek Gods (Simplified Version)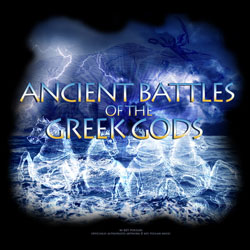 Style: Modern | Difficulty: Medium Easy | Grade: 2+
Order Request Perusal / Pricing Other Questions


Heroic fanfares, ominous melodies, lush harmonies, and tense rhythms battle for ultimate victory in Ancient Battles of the Greek Gods. Recounting the cataclysmic clash of the Titans versus the Olympians through the creation and eventual rise of mankind, the myths of Ancient Greece come to life to battle once again.

CREDITS
Composed by: Key Poulan
Percussion by: Wardell King
Originally commissioned by: Highland H.S., Highland, AZ - Kevin Bennett, Director
Published By: Key Poulan Music
Duration: 8:20
---
MUSIC SAMPLES
Mvt. 1: "Zeus and Hades" juxtaposes good and evil, light and dark, by pitting dissonant polyrhythms and chromatic melodies against heroic fanfares and steady, driving pulses. Rising up from the sinister depths of the Underworld to the glorious heavens high above Mount Olympus, brothers Zeus and Hades unite to usurp their murderous father Cronus and defeat the Titans for rule over Mount Olympus and all of creation.

[ Download ]


Mvt. 2: "Poseidon" is a dreamy swim downward beneath the rippling ocean waves to the mysterious yet compelling dominion of the ruler of the seas and all waters. Lyrical and soaring melodies convey the vastness and wonder of the oceans before revealing the awesome and powerful god Poseidon himself.

[ Download ]


Mvt. 3: "Demigods and The Rise of Man" opens with the various battles of the demigods Achilles, Athena, and Heracles, before shifting to lush harmonies and heartbeat-like rhythms to represent the wonderful and terrible creation of mankind.

[ Download ]