Apocalypse (Full Instrumentation)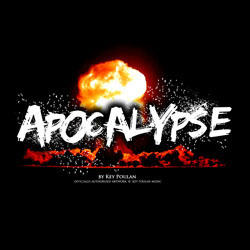 Style: Modern, Dark | Difficulty: Medium Difficult | Grade: 4
Order Request Perusal / Pricing Other Questions


This show is dark and sinister, tumultuous and cataclysmic. It is the sequel to the In the Beginning show and is based on the prophecy of the Book of Revelations. Apocalypse is not dark in its entirety, as if offers hope and light at the end, leaving audiences uplifted even though they realize they had just experienced a journey of incredible wrath and ferocity.

CREDITS
Composed by: Key Poulan, Shawn Glyde, and Dan Bryan
Originally commissioned by: Whitesboro H.S., Whitesboro, TX - Jim Cude, Director
Published By: Key Poulan Music
Duration: 7:20
---
MUSIC SAMPLES
Mvt. 1: "Rapture" conveys the sense of what is written in the Holy Bible regarding the Apocalypse, when Christ raises up his true church and its members to a realm above the earth, where all raised up will enjoy celestial bliss and eternal life with the Lord. While full of intensity, it's also replete with wonder and awe, as if pulling back the curtain to the eternal kingdom and letting us take a peek inside. Euphoria fills the souls of those who realize their eternity is going to be one of happiness beyond their wildest imaginations.

[ Download ]


Mvt. 2: "Tribulation and Apocalypse" reflects the relatively short period of time when people who follow God will experience worldwide persecution. The first part of this movement captures the horror and intensity of this persecution. However, following up on the statement that "what doesn't kill one only makes one stronger," those true believers are purified and strengthened by the maltreatment of the masses. They are privileged to see into the Kingdom of God and find solace in that.

[ Download ]


Mvt. 3: "1,000 Years of Paradise" represents the idea a thousand-year reign of Christ on earth, a millennium, as proclaimed in Revelation 20:4-6. Those souls who did not receive the mark of the beast for their testimony to the word of God come to life and reign with Christ during this period, becoming blessed and holy. What was a dark and foreboding show becomes bright and light, the trumpets proclaiming the eternal promise of hope and salvation. The upbeat and festive ending lets all know that the Apocalypse is something to be welcomed and not feared.

[ Download ]