Canon: Deconstruction / Reconstruction (Full Instrumentation)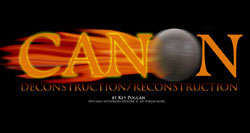 Style: Classical / Modern | Difficulty: Medium Difficult | Grade: 4+
Order Request Perusal / Pricing Other Questions


One of the most popular pieces of music ever written, one that has withstood the test of centuries and seems to become even more popular as centuries pass, is Johann Pachelbel's timeless "Canon".  Taking this immortal classic, Key Poulan has created Canon: Deconstruction/Reconstruction, a show that lifts up the work, explores it from many angles, tears it apart, puts it back together in unexpected ways and turns it every-which-way as it blazes towards a triumphal ending. Although the ending is out of character with the original tranquility of the piece, it fits the work in a manner than one wonders why Pachelbel himself did not turn on the afterburners.Individual lines of the original are manipulated, employing many different instrumental colors. One possible visual theme is to treat the piece as a blueprint, constructing a "stage" to spotlight the various musicians who deliver the theme throughout the show. The commissioning band started the pit all over the field and rolled the instruments onto the blueprint diagram at points draftsmen would have indicated. A cello soloist was employed by the original band to play this work, but you may use any of your star students in the solo role.

CREDITS
By: Key Poulan, Percussion by Jeff Ausdemore
(Originally commissioned by Colleyville Heritage H.S., Colleyville, Texas - Jed Weeks, Director)
---
MUSIC SAMPLES
Mvt. 1: "Deconstruction" takes melodic snippets from the Pachelbel original and creates an entirely new work out of the fragments. It is fascinating to hear how those fragments coalesce to form a new whole.

[ Download ]


Mvt. 2: "Espressivo" is a completely contrasting mood piece, yet is still connected thematically with various "Canon" threads.

[ Download ]


Mvt. 3: "Reconstruction" starts with a percussion feature and then builds to an earth-shaking intensity. It is a further contrast due to its darkness, ultimately joining together with the main "Canon" theme and generating a whole new bright and lively ending that tears the roof off the theme with a rip-roaring conclusion, leaving fans wondering if they ever really knew "Canon" at all.

[ Download ]



Show Specific Add-Ons

General Add-Ons