Go West! (Simplified Version)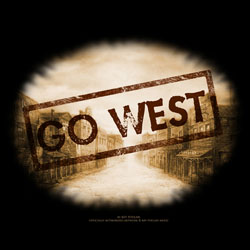 Style: Western | Difficulty: Medium Easy | Grade: 2
Order Request Perusal / Pricing Other Questions


Go West! depicts the excitement of traveling to the great American West to settle new ranch land, mine for gold, or find work with the new railroad. Cowboys drive cattle, outlaws hold shootouts, the steam engine train arrives, and the gold rush begins in this rousing show of original music.

CREDITS
Composed by: Key Poulan
Percussion by: Shawn Glyde and Dan Bryan
Originally commissioned by: Elko H.S., Elko, NV - Walt Lovell, Director
Published By: Key Poulan Music
Duration: 7:41
---
MUSIC SAMPLES
Mvt. 1: "Braving the Frontier" ushers in the arrival of the covered wagons and cowboys across the uncharted American West. Rays of sunshine spill across the plains, whips crack, and the Old West is born.

[ Download ]


Mvt. 2: "Iron Horse / Expanse of the Frontier" begins with the blast of a steam engine horn and its chugging engine as it gains momentum across The Great Plains. As the railroad expands westward across the American countryside, it brings courageous settlers in search of a new beginning in the Wild West.

[ Download ]


Mvt. 3: "Boom Town / Gold Rush" opens in the middle of a gold mining boom town, alive with midday commotion. The discovery of gold in the hills of California brings wave after wave of eager settlers, adding to the hustle and bustle.

[ Download ]