Heroes Fallen, Not Forgotten (Reduced Instrumentation)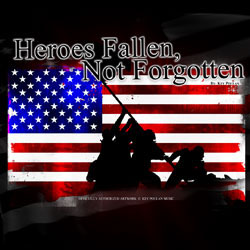 Style: Patriotic | Difficulty: Medium | Grade: 3
Order Request Perusal / Pricing Other Questions


Heroes Fallen, Not Forgotten is a salute to those in the military who have given their lives in service to their country, and to those who got caught up in the midst of tragedy due to the actions of others, such as assassinated presidents and civil rights legends.

CREDITS
Composed by: Key Poulan
Percussion by: Mike McIntosh and Dan Bryan
Stock Drill by: Mitch Rogers
Originally commissioned by: Chesterton H.S., Chesterton, IN - Michael Scheiber, Director
Published By: Key Poulan Music
Duration: 7:14
---
MUSIC SAMPLES
Mvt. 1: "Shades of Shenandoah for Mrs. Bixby" is a musical reflection of the Civil War (through the tune "Shenandoah") and the great president Abraham Lincoln. The widow Mrs. Bixby received a letter from Abraham Lincoln on the loss of two of her sons in the Civil War. The tenderness with which President Lincoln expressed his sorrow is heard in the solemnity of the music, reaching out to comfort those who have experienced the loss of a loved one in service to their country. A subtle patriotic essence permeates this lovely piece, sad but full of hope for a better tomorrow.

[ Download ]


Mvt. 2: "Wars, Politics, Homeland Tragedies" covers dark moments in American history. It starts in rousing fashion during World War I with hints of "Battle Hymn of the Republic" and "It's a Long Way to Tipperary", followed by a musical interpretation of the famed photo of the raising of the flag by the Marines on Iwo Jimo. The piece turns solemn with musical images of President Kennedy and Dr. Martin Luther King. The sounds of helicopters overhead signify the country's involvement in the Vietnam conflict. The movement climaxes with motifs representing mass tragedy visited upon American soil in the form of the Oklahoma City bombing and the destruction of the World Trade Center. As the 9/11 fireball fades to black, a short moment of silence is followed by "Amazing Grace", with an overlay of "Taps" floating on top.

[ Download ]


Mvt. 3: "Let Freedom Ring" lets us know that in spite of all of the terrible things that have happened during the history of the United States, our country will continue to live on. A number of works are intertwined to conclude the show, including "America" ("My Country 'Tis of Thee"), "The Star Spangled Banner", "Yankee Doodle", "You're a Grand Old Flag", "Shaker Song" the "Iwo Jima" segment from Movement 2, and "America, America!" The ending is powerful and appropriately patriotic, lifting up our optimism despite the bad things that have tainted our past.

[ Download ]