In the DEAD of Night (Full Instrumentation)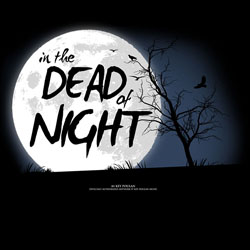 Style: Dark | Difficulty: Medium Difficult | Grade: 4
Order Request Perusal / Pricing Other Questions


brings creatures, ghouls, and spirits of the darkness and shadows to life! The pulse of life and light of vitality surges through all entities, bringing all together in a midnight celebration.

CREDITS
Composed by: Key Poulan
Percussion by: Shawn Glyde and Dan Bryan
Originally commissioned by: Sandra Day O'Connor H.S., Phoenix, AZ - Melanie Britton, Director
Published by: Key Poulan Music
Duration: 8:57
(This show requires additional licensing)
---
MUSIC SAMPLES
Mvt. 1: "Danse Macabre (Saint-Saenz)" is a brilliant arrangement of the unofficial anthem of Halloween, composed in 1874 by French composer Charles-Camille Saint-Saëns. With xylophones to mimic the rattling bones of dancing skeletons, the lively music evokes images of spirits and ghouls emerging at nightfall to dance and roam while the living slumber.

[ Download ]


Mvt. 2: "Claire de Lune (Debussy)" is a dreamy ode to the moon and its associations of darkness and shadow, arranged from an orchestral work of the same name composed by French composer Claude Debussy (1862 – 1918).

[ Download ]


Mvt. 3: "Welcome to the Black Parade (My Chemical Romance)" invites all the ghouls, spirits, and creatures in the shadows to join together in a darkly joyful parade, creating a vibrant display and celebration. LICENSING REQUIRED.

[ Download ]



Show Specific Add-Ons

General Add-Ons