Need for Speed, The (Reduced Instrumentation)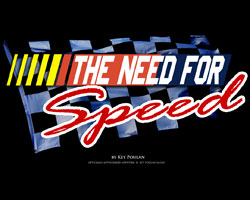 Style: | Difficulty: Medium Difficult | Grade: 4
Order Request Perusal / Pricing Other Questions


The Need for Speed can be performed as a tribute to NASCAR and Dale Earnhardt, or simply for what it is, an exciting and nail biting auto race to the finish!

CREDITS
Composed by: Key Poulan
Percussion by: Shawn Glyde and Dan Bryan
Originally commissioned by: Mooresville H.S., Mooresville, North Carolina - Ken Davis, Director
Published by: Key Poulan Music
Duration: 7:10
---
MUSIC SAMPLES
Mvt. 1: "Start Your Engines" opens with a fanfare announcing the revving of engines prior to the start of the race. The drivers are in their cars and getting ready to tear down the track. After a relatively mild pace lap, the green flag comes out and the race is off and running, with music that jumps in tempo to a blistering speed that is further witnessed in the sudden increase in the speed of the guard work.

[ Download ]


Mvt. 2: "In Remembrance of Dale" remembers the aura that Earnhardt Sr. cast over all the drivers through his seventy-six career wins and seven championship seasons. His popularity with the fans due to his charming but devilish demeanor and the aggressive driving that was a large part of the legend is felt in this tribute, both tender and dynamic.

[ Download ]


Mvt. 3: "Checkered Flag" grows ever more wild and intense as two cars battle for the lead and the win. The music keeps increasing in intensity as the finish line grows ever closer. Only at the very end do we have a winner! The checkered flag is revealed and the winner advances to the victory lane as the fans cheer and fists are pumped in the air in joyful triumph.

[ Download ]