Toro! (Full Instrumentation)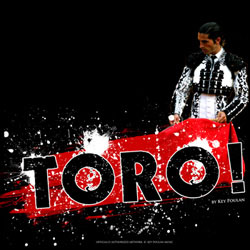 Style: Ethnic / Spanish | Difficulty: Moderately Difficult | Grade: 5-
Order Request Perusal / Pricing Other Questions


The thrill of Mexican bull fighting comes alive in Toro! Experience the flash of the matador, the cheering of the crowds and the spirit of the bull.

CREDITS
Composed by: Key Poulan
Percussion by: Gary Gill and Jered Sherill. Reduced Pit Percussion by Jim Weaver.
Originally commissioned by: Hawthorne Caballeros, Hawthorne, New Jersey - Frank Gerris, President
Published by: Key Poulan Music
Duration: 9:02 (7:42 without the percussion feature)
---
MUSIC SAMPLES
Mvt. 1: "El Toro Rojo" (literally translated as "The Red Bull"), captures the essence of the noble creature, snorting through his flared nostrils, as the matador stalks him and stimulates him to attack the red cape. Opening mysteriously as the crowd awaits the bull to enter the arena from its chute, the bull charges out, the crowd rises in anticipation and cheers and the matador's cape swirls through the air to shouts of "Olé!" Continually accelerating as the matador's actions become faster and more frenetic, the piece builds to a fervent climax as the bull and matador face off in a standoff of life and death.

[ Download ]


Mvt. 2: "El Toro Furioso" (literally, "The Furious Bull"), is bursting with energy in both its sense of south-of-the-border passion and in the way it grooves along, setting up a swirling fervor of Spanish-tinged fury. After opening with an extended percussion feature utilizing many players on large drums, the winds enter in 3/4 and the groove builds up until it falls into a 5+6 groove that will make feet in the stands tap in all sorts of unusual ways. A contrasting section represents a brief lull in the action when the matador looks into the audience and sees his lady in the crowd as she wonders if she'll witness his victory or his untimely death. She doesn't have to wonder for long, as the piece blasts off violently while the matador and bull engage in the final struggle for supremacy, accompanied by a flurry of notes blasting in a frenzy of activity. The matador is ultimately victorious and the piece ends with a celebration that extends deep into the night.

[ Download ]



Show Specific Add-Ons

General Add-Ons