Vertigo (Full Instrumentation)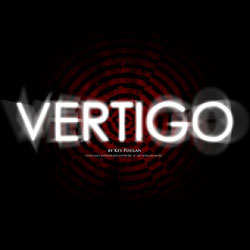 Style: Modern, Dark | Difficulty: Medium Difficult | Grade: 4 - 5
Order Request Perusal / Pricing Other Questions


Fans of classic cinema will remember the unsettling sense of disorientation and fear that Jimmy Stewart's character felt when climbing the stairs of the bell tower in the Hitchcock masterpiece, Vertigo. Although the production Vertigo isn't based on the Hitchcock film, the sensation of each movement reflects upon the elements of fear and trepidation one experiences when suffering from the dizziness associated with the balance disorder symptom. The world seems to be spinning out of control as the music plunges us deeper and deeper towards a point of no return, one that forces us to hold on for our lives as the music assaults our senses and disrupts our equilibrium.

CREDITS
Composed by: Key Poulan
Percussion by: Shawn Glyde and Dan Bryan
Published by: Key Poulan Music
---
MUSIC SAMPLES
Mvt. 1: "Disorientation" captures the onslaught of vertigo, where things seem to be other than what they should be. The music gradually gets more bizarre and unsettled, with percussion that becomes increasingly interruptive. Music is delirious and strangely intoxicating. At first we don't know if the music will push us forward or drag us under and we don't really care. Up is down!

[ Download ]


Mvt. 2: "Whirling" incorporates swirling music motifs that start to spin out of control, expanding one's sense of disorientation.

[ Download ]


Mvt. 3: "Falling" is totally disorienting. The whirling motion of the music becomes so pronounced that the music involuntarily falls apart. Percussion is cataclysmic and also reaches a climax of total confusion.

[ Download ]


Mvt. 4: "Blackout" is where everything collapses and grinds to a halt quite dramatically.

[ Download ]



Show Specific Add-Ons

General Add-Ons