Bay City Experience (Reduced Instrumentation)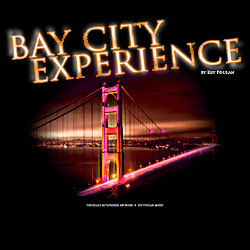 Style: Modern | Difficulty: Medium Difficult | Grade: 4+
Order Request Perusal / Pricing Other Questions


The San Francisco Bay area has long been noted as one of the most beautiful regions anywhere, but since civilization has moved in, it has also become an important hub of commerce, hi tech development and transportation. Each of the three movements of Bay City Experience highlights sites in one of the area cities that is known and connected to one of those qualities.As the pace of life in each city is uniquely different, so is the aura that each movement creates through the musical palette and colors that enrich and convey the sense of personality that each city has to offer.

CREDITS
Composed by: Key Poulan, Shawn Glyde and Dan Bryan
Originally commissioned by: Oak Grove H.S., San Jose, California - Chris Moura, Director
Published By: Key Poulan Music
Duration: 8:15
---
MUSIC SAMPLES
Mvt. 1: "Oakland: Dawn at the Docks / Industrial Innovation" starts off the day with a plethora of industrial sounds waking up the citizens to go to work. From the placid sounds of the early morning fishermen gazing out upon the giant container ships being unloaded and loaded, to the sounds of the flurry of activity surrounding those ships, this opening is no less subtle than the alarm clocks that are set off around the Bay Area to jar the workers awake so they can keep the larger machines of America and the world on the go.

[ Download ]


Mvt. 2: "Silicon Valley: Daytime Production Lines" explores the use of a 12-tone row, giving the movement a sense of the hi-tech action that sweeps across the valley during the day, especially at locations manufacturing computers and computer chips. The sequential nature of this movement represents the logic board perfection of the assembly lines.

[ Download ]


Mvt. 3: "San Francisco: Golden Gate At Sunset" is the reward for a hard day's work, taking us up to the base of the mighty Golden Gate Bridge, where we relax and watch the sun set past the grand span of San Francisco's most elegant "painted lady." Lovely in its scenic portrayal of one of the world's most picturesque post card scenes, the piece then picks up steam with a majestic peek of San Francisco bathed in the wonder of countless streetlights.

[ Download ]