Cityscapes (Full Instrumentation)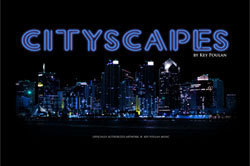 Style: Modern | Difficulty: Medium Difficult | Grade: 4+
Order Request Perusal / Pricing Other Questions


Cityscapes is a four movement work that captures the daily grind, excitement, colors, moods and fun of being in a big city. The music and sound effects are especially geared towards providing limitless possibilities for a visual staff that wishes to use props although you do not need props to convey the show's intent.

CREDITS
Composed by: Key Poulan, Shawn Glyde and Dan Bryan
Originally commissioned by: Grenada H.S., Grenada, Mississippi - David Daignault, Director
Published By: Key Poulan Music
CITYSCAPES SHOW LENGTH REDUCTION SUGGESTIONS
As Written
The full show length is 11:05.
8:00 Version for Bands with Strong Percussion
Eliminate Mvt. 3.
7:45 Version for Bands with Weak Percussion
Eliminate Mvt. 2 and m62-end of Mvt. 3.
---
MUSIC SAMPLES
Mvt. 1: "Morning/Drive Into the City" starts with the "tick-tock" of clock sounds, which may commence before the drum major salutes. Horns may be scattered off the field. A short snippet of the "Morning" theme from Grieg's "Peer Gynt" is heard amidst the "tick-tocking" and then alarm clocks wake up the masses. A radio announcer proclaims that traffic is looking pretty bad. Percussion gradually comes together to create a whirlwind of the morning rush hour and the horns start to come together. Traffic noises let all know what is going on. There's a big hit and then a sudden stop as a traffic jam ensnarls everyone. The "ding-ding-ding" of a railroad crossing and train sounds adds to the traffic jam.

[ Download ]


Mvt. 2: "Daily Life in the City" represents the hustle and bustle of the workers running around. Various musical sections emulate different workers. You will hear phones ringing, papers crumpling and high brass creating a typewriter effect as someone answers the first call of the day. Outside, the battery percussion members are cleverly picking up the garbage. Background music in a shopping center provides the setting for shoppers and metallic sounds of machinery and jackhammers allow construction workers to show off their trade. A whistle announcing the end of the workday sends everyone home.

[ Download ]


Mvt. 3: "Early Evening Rain After Work" shows the city emptying out as people go home. In the car, they turn on the radio and we hear some channel surfing as different snippets of music fly by, interrupted by some white noise between stations. You will hear country, classical, Latin, hip hop and talk, among other styles. This is a great spot to throw in a weather report for rain, as a brief rainstorm follows. Have the band scatter to avoid getting wet. A ballad follows after the rain. The music becomes quite lush and sonorous, building to a large hit and emotional release.

[ Download ]


Mvt. 4: "Nightlife" creates the effect of walking down the sidewalk of a nightclub district and hearing different sounds and genres of music pour out into the street from the stages inside. A variety of different styles are heard as one passes by, stopping for a longer period in the blues club, where the band should come up front and "lay down" the final impact in a down 'n' dirty bump and grind segment that hits hard. After this finishes, you will hear the soft sounds of Brahm's immortal "Lullaby" played by a solo flute signifying it is time for all to go to bed, enjoy sweet dreams and start recharging their batteries for the next day of work.

[ Download ]