Classic Schizophrenia (Reduced Instrumentation)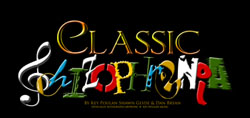 Style: Modern / Classical | Difficulty: Medium | Grade: 3+
Order Request Perusal / Pricing Other Questions



CREDITS
Composed by: Key Poulan, Shawn Glyde and Dan Bryan
Originally commissioned by: Chesterton H.S., Chesterton, Indiana - Michael Scheiber, Director
Published By: Key Poulan Music
Duration: 7:01
---
MUSIC SAMPLES
Mvt. 1: "Twisted Minuet" establishes the Baroque work Minuet in G by Johann Sebastian Bach and alters it into a work that grooves with great development and modernism. The looping 6 notes of the minute foreshadows things to come. Although not from the Classical period, Bach's Minuet serves as an excellent foundation for the interjection of Classical themes.

[ Download ]


Mvt. 2: "Short Circuit" begins the the sequence of short-circuiting the many classical pieces that can float around an individual's mind. This movement could pattern itself in a somewhat ADHD manner by taking the listener on an ever-changing journey including moments from Bach's Minuet in G, Berlioz' Symphonie Fantastique, Bach's Tocatta and Fugue, Strauss' Blue Danube, and the return of Berlioz' Symphonie Fantastique.

[ Download ]


Mvt. 3: "Poloritalin Dances" Combining Borodin's Polovtsian Dances with a little dose of Ritalin soothes the listener back into a pretty and happy place. Beauty and control are once again embraced.

[ Download ]


Mvt. 4: "Bachtoven" implies that the "war is on" between two of the most recognized Baroque and Classic masters. Beethoven's Symphony #5 is the foundation of this movement which is quickly interrupted by Mozart's Marriage of Figaro. Bach's Tocatta and Fugue battles the Beethoven. A taste of Bach's Minuet in G provides a nice bookend to the various Baroque and Classical works within.

[ Download ]