House of Cards (Full Instrumentation)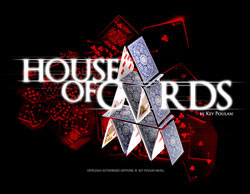 Style: Modern | Difficulty: Medium Difficult | Grade: 4+
Order Request Perusal / Pricing Other Questions


House of Cards is a four-movement show that creates moods based on the four main images found in a deck of cards.

CREDITS
Composed by: Key Poulan
Percussion by: Scott Johnson and Dan Bryan
Originally commissioned by: Bellevue East H.S., Bellevue, Nebraska - Ron Hardin, Director
Published By: Key Poulan Music
Duration: 7:46
---
MUSIC SAMPLES
Mvt. 1: "Spades" is inspired by the Ace of Spades, the "death card." The opening motif foreshadows the "Diamonds" theme and then the Ace of Spades is played, instantly casting darkness upon the music. However, the darkness is extremely energetic, swirling with an intensity that raises the excitement level as one waits for the next hand to be drawn. In this case, "dark" is synonymous with "thrilling," and it's impossible to sit back and listen to this movement without feeling the tension bubbling over.

[ Download ]


Mvt. 2: "Hearts" is a ballad, rich and warm, based on the Queen of Hearts. Not to be confused with the Queen of Hearts from "Alice in Wonderland," this movement can be thought of as a loving tribute to a queen with a heart big enough to envelop her entire kingdom, a benevolent queen who loves those who love her.

[ Download ]


Mvt. 3: "Clubs" is an intense battery percussion feature, the "clubs" referring more to drum sticks and mallets than the actual card of the same name. Irrepressibly pounding and rhythmically bombastic, this movement is the part of the show where anything goes as the volume and throbbing dynamism blast the field into submission.

[ Download ]


Mvt. 4: "Diamonds" reflects on the Kind of Diamonds, representing the most regal of gemstones by the same name. You'll hear the majestic British influence of royalty, much like the most famed ceremonial works by Sir William Walton. Stately and noble, this piece ends the show with a royal flush that clearly dominates the hands of the other players.

[ Download ]



Show Specific Add-Ons

General Add-Ons