Jules Verne Journeys (Full Instrumentation)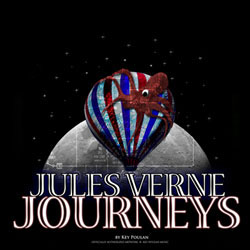 Style: Modern | Difficulty: Medium Difficult | Grade: 4+
Order Request Perusal / Pricing Other Questions


Based on several works of one of history's greatest authors and imaginers of the possible, Jules Verne Journeys brings to life the remarkable voyages that Verne set to paper that captured the imaginations of millions throughout the world. The 19th Century French author is credited with inventing the genre of science fiction, writing about travel into the heavens, under the sea and around the world long before any such voyages were possible. This show starts at the core of the earth and gradually emanates outwards to the heavens.

CREDITS
Composed by: Key Poulan
Percussion by: Shawn Glyde and Dan Bryan
Originally commissioned by: Franklin H.S., El Paso, Texas - Bruce Beach, Director
Published by: Key Poulan Music
Duration: 7:23
---
MUSIC SAMPLES
Mvt. 1: "Journey to the Center of the Earth" utilizes sounds of steam and metallic implements to set the stage for the plunging into the deep unknown. There is a special oboe solo that is hauntingly unforgettable, but it is cued in other parts in case you don't wish to use an oboe on the field. The overall effect of the piece is tribal and barbarically ritualistic, conveying the sense molten lava pits, spewing volcanoes, and all sorts of natural dangers that can cut the voyage short before the mission of the journey is accomplished.

[ Download ]


Mvt. 2: "20,000 Leagues Under the Sea" moves us to the peaceful depths of the deepest oceans. Rather than being scary and turbulent, this movement highlights the incredible wonders of the deep. One can hear the tranquil flowing back and forth of the kelp forests and the dramatic sudden appearance of magnificent whales singing their mysterious song as they carve a path through the crystalline blue water.

[ Download ]


Mvt. 3 & 4: "Around the World in 80 Days" takes us on a crazy ride through the skies in a giant hot air balloon. One doesn't know where the winds will blow them next. This journey is pure exhilaration as we're carried over the dramatic landscape of the Pacific Rim. "From the Earth to the Moon" segues right out of the above movement, starting with a magnificent fanfare and screaming french horn rips to announce the impending take-off. After settling into a countdown, the spacecraft lifts about the clouds, souring through the skies and breaking through the bonds of earth's atmosphere. We are lifted along with it to explore what exists beyond the gravitational pull of our planet, our sense of wonder growing with every concluding measure of music.

[ Download ]



Show Specific Add-Ons

General Add-Ons