Luminosity (Full Instrumentation)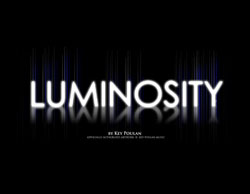 Style: Modern | Difficulty: Medium Difficult | Grade: 4
Order Request Perusal / Pricing Other Questions


Luminosity is about how Thomas Alva Edison never gave up his search for a workable incandescent light bulb, an invention that made so much of modern life possible. You'll hear him tinker in this workshop through the sounds of the percussion and you'll feel his pride and accomplishments through the bravado of the brass and the flourishes of the woodwinds.

CREDITS
Composed by: Key Poulan
Percussion by: David Knight
Marching band version originally commissioned by Trabuco Hills H.S., Mission Viejo, California - Dr. Howard Stephens, Director
Published by: Key Poulan Music
---
MUSIC SAMPLES
Mvt. 1: "Edison's Menlo Park Workshop" starts with a "flashy" woodwind run that sets up a jubilant brass statement that captures the "aha" experiences of Edison in his New Jersey lab as he comes up with ideas that will change the course of humanity. There is a mechanical feel to the wind scoring accompanied by unusual sounds of tinkering and sparks from the percussion. The music has sort of a late 19th Century sound of the era of the discovery of the incandescent light bulb. The intensity of the music builds to a big climax of discovery.

[ Download ]


Mvt. 2: "Persistence and Reflection" takes us through the hard times of testing each of the 3,000 types of filament prototypes in order to find the one that worked. Despite the failures of so many experiments, he fought on against the odds towards the goal of finding the one formulation that would change the world. The music is struggling at first, but then is at peace as Edison is able to sit back and think about what it took to get him to the pinnacle of success.

[ Download ]


Mvt. 3: "Lighting the World" honors Edison's accomplishment with an "illuminating" theme that takes all the prior darker themes and makes everything bright and rosy. The show concludes in celebration of Edison's personal victory with a soaring theme of victory.

[ Download ]