Rise and Fall of Rome, The (Full Instrumentation)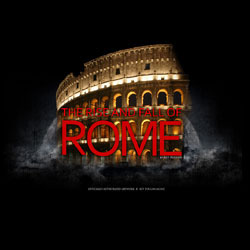 Style: Ethnic / Ancient / Ritualistic | Difficulty: Medium Difficult | Grade: 4+
Order Request Perusal / Pricing Other Questions


This is not your typical Roman-themed show. The Rise and Fall of Rome isn't about the political or military reasons why the Roman Empire fell, but rather explores the wonders of Roman architecture and the influence that religion had on the ancient civilization.

CREDITS
Composed by: Key Poulan
Percussion by: Leonard Bedoian
Originally commissioned by: Buchanan H. S. Band, Clovis, California - Key Poulan, Director
Published by: Key Poulan Music
---
MUSIC SAMPLES
Mvt. 1: "Chisels and Stone (Short Version)"

[ Download ]


Mvt. 2: "Catacombs (Short Version)"

[ Download ]


Mvt. 3: "Pagan Dance and the Great Fire (Short Version)"

[ Download ]