Alfred Hitchcock's – The Birds (Full Instrumentation)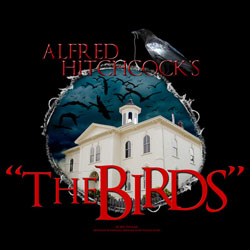 Style: Modern - Dark | Difficulty: Medium Difficult | Grade: 4 - 5
Order Request Perusal / Pricing Other Questions


Alfred Hitchcock's The Birds is one of the most famous suspense movies ever created. Only Psycho has such a large following. Hitchcock was a master at making the pulse race and playing the right music at the right time for the biggest impact. What makes this movie stand out in the horror genre is the absence of a musical score. Key Poulan's imagination of what the musical score might have been takes the audience into a world of deeper fear.

CREDITS
Composed by: Key Poulan
Percussion by: Adam Clay
Originally commissioned by: Nogales H.S., Nogales, CA - Brad Pollack, Director
Published By: Key Poulan Music
Duration: 7:39
---
MUSIC SAMPLES
Mvt. 1: "Prelude and Schoolhouse Swarm" begins immediately with sounds that are reminiscent of the calm coastal town of Bodega Bay. One of the few moments where music occurs in the film is when the schoolchildren are singing "Ristle-tee, rostle-tee". Birds slowly begin to congregate one by one on the playground. Brief elements of the children's tune are masterfully woven through the "Schoolhouse Swarm" as the sounds flapping wings incites shear terror on the children.

[ Download ]


Mvt. 2: "Arabesque #1 (Debussy)" was cleverly disguised in the film during a scene where the main character, Melanie Daniels plays a few bars on the piano. The Arabesque is a departure from what one would expect from a suspense/horror film. With no threat present, it lulls the audience into a false sense of security. It's the sound of safety and the sound of victory. When compared to the movie, this uplifting track is contradictory in many ways, because we know there is no victory for the main characters.

[ Download ]


Mvt. 3: "Attic Attack" begins with an organ and the distant calling of the birds. It's the sound of impending death and an imminent attack. The sound of creaking steps occurs as Melanie climbs her way to the attic. The anticipation grows feverishly at the moment where the door to the attic is thrown open. "Attic Attack"is launched into an extremely quick pace to show off the relentless onslaught of the birds. This instantly gets the heart racing and forces the listener to fear for the lives of the characters. One never knows if there's safety or danger, and that's the essence of an epic suspense movie. <br />

[ Download ]