Transfiguration: A New Beginning (Full Instrumentation)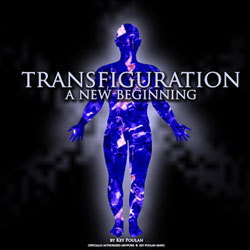 Style: Modern | Difficulty: Medium Difficult | Grade: 4+
Order Request Perusal / Pricing Other Questions


The process of creativity is one that has long fascinated the creators of the world's art forms. Even though they themselves are responsible for starting with nothing and molding it into something of wonder, it is rarely understood how one starts with a blank canvas, piece of paper or empty computer screen and fills it up with meaningful and lasting impressions.Transfiguration: A New Beginning takes a glimpse at this process, bringing us into the world of the creator's mind and imagination, using the field as the canvas/paper/screen

CREDITS
Composed by: Key Poulan
Percussion by: Kirk Gay and Chris Romanowski
Originally commissioned by: The Magic Drum & Bugle Corps, Clermont, Florida - James Newman, Director
Published by: Key Poulan Music
Duration: 10:30
---
MUSIC SAMPLES
Mvt. 1: "Silhouettes" gives an impression of what possibilities might lay ahead. As a silhouette simply provides an outline of a face without any facial details, this work alludes to the direction the group is heading without restricting it with any preconceptions. It is the ultimate representation of a Tabula Rasa (blank slate).

[ Download ]


Mvt. 2: "Metamorphosis" brings more focus to the details of the evolving creation. For example, a composer begins the creative process by tinkering with the tools he has at his disposal, which could be as nebulous as a musical thought and as specific as a synthesizer, computer and notation software. Over time, various musical ideas begin to coalesce into a piece of actual music that begins to evolve, take shape and figuratively come to life.

[ Download ]


Mvt. 3: "Admiration" represents the creator admiring and taking pride in the beauty of his creation before anyone else has an opportunity to experience it. A deeply personal movement, one can sense a composer letting the sounds of his creation fill his ears even before the full ensemble gets a chance to perform the work, or an artist or sculpture stepping away from the finished work to admire the shades, palette of colors or lines that make up the finished product.

[ Download ]


Mvt. 4: "Evolution of a New Hope" introduces the creation to the world for all to witness and enjoy. Critics and the masses at large will form their own opinions. The creation may undergo revision or testing and continue to evolve and be tweaked until it reaches its full potential. In the case of a performance, it experiences minute changes all season long, right up until the final performance.

[ Download ]



Show Specific Add-Ons

General Add-Ons