Carmen (IMP)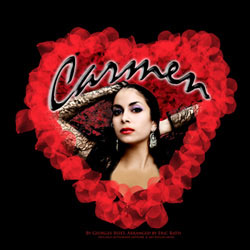 Style: Classical | Difficulty: Medium Difficult | Grade: 4 - 5
Order Request Perusal / Pricing Other Questions


Georges Bizet's opera Carmen is one of the most popular and best-known works to come out of the opera theater, its melodies among the most recognizable in the world. Carmen is drawn from the best known of the most beloved of these melodies. The "Prelude" sets the scene of the townspeople milling around the square in Seville. With Spanish exoticism permeating the atmosphere, Carmen is introduced and begins to exhibit the flair that makes her so appealing to men. "March of the Toreadors/Allegro Moderato," perhaps the most famed of the melodies, euphoric and vivacious, comes to the fore as the bullfighter in the storyline is celebrated. While you certainly don't have to take a literal approach to this show, this would be a great spot to do some work with a bullfighter's cape. The "Finale" is from the end of the opera, where a jilted lover kills Carmen and the famed bells theme peals out, mourning the loss of the title character.

CREDITS
Composed By: Eric Rath
Published By: Key Poulan Music
Duration: 5:10
---
MUSIC SAMPLES
Mvt. 0: "Complete Show Recording"

[ Download ]



Show Specific Add-Ons

General Add-Ons