Cyprus (IMP)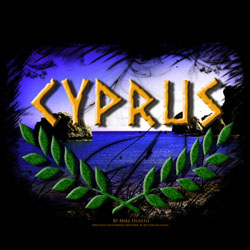 Style: Ethnic / Ancient / Middle Eastern | Difficulty: Medium | Grade: 3
Order Request Perusal / Pricing Other Questions


Hovering in the middle of the Mediterranean Sea, nestled near Turkey and Greece, is an island seemingly unto itself, based on Roman conquest millennia ago and relatively devoid of the troubles that inhabit much of the region due to its isolation. The sights and sounds of this mystical isle inspire Cyprus, replete with soaring modal scale melodies that sound as if they could emanate from the haunts of the Greco-Roman ruins that dot the island. The pulsating rhythmic ostinatos re-create the excitement of when the Roman legions swarmed the countryside while the modality of the melodies pay homage to the Grecian influence that preceded the conquering Romans. This show offers a chance to explore the civilization's rich history of art, architecture and mythology in the visual treatment. Think classic Doric columns and marble statues for the earlier Greco period and perhaps centurions for the latter Roman era. The musical mood varies from bright impacts to dark moods reflecting the history of the island. For the percussion, the musical arrangements are balanced between the pit and battery sections. Pit percussionists are asked to use some unique-yet-simple unusual techniques that are fully explained and therefore easy to learn. Timpani solos abound. The battery section dives into some grooving beats reflecting the pulse of the ethnic music of the Mediterranean.

CREDITS
Composed By: Mike Huestis
Published By: Key Poulan Music
Duration: 4:33
---
MUSIC SAMPLES
Mvt. 0: "Complete Show Recording"

[ Download ]



Show Specific Add-Ons

General Add-Ons