Space: Journey, Wonders, Dangers (IMP)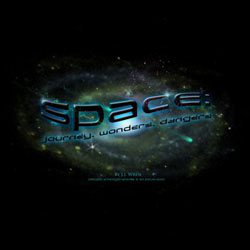 Style: Modern / Electronic | Difficulty: Medium Difficult | Grade: 4 - 5
Order Request Perusal / Pricing Other Questions


Space: Journey, Wonders, Dangers is derived from the fascination and risk involved in space exploration. The journey begins as we travel through Earth's atmosphere, breaking the barrier between our world and that of the unknown. This beginning section of the work features quick tempos, impressive battery figures, and strong ostinatos which give the music a constant feeling of movement. The middle section of this piece symbolizes the beauties and wonders we encounter as we travel through outer space. Beautiful, yet haunting melodies supported by tasteful battery passages dominate this section of the work. The frequent use of metallics gives images of flickering lights and stars; and the use of extreme ranges of the keyboard instruments give contrast between lightness and darkness (which infers the vast emptiness of space). The closing movement of the piece represents the many dangers that outer space encompasses. Fast tempos and often chaotic ensemble segments display this idea of inevitable peril. Finally, in our attempt to escape the pandemonium, we again plunge into our atmosphere, headed back towards Earth. We briefly revisit the beginning of the work, and with the final note, we crash back into our world. The show concept and organization make "Space: Journey, Wonders, Dangers" easy for any show designer to create. Challenging battery and keyboard passages guarantee the enjoyment of performing this piece as well as showcasing the skills of any ensemble. So have fun as you experience the journey through space, but always remember that exploration has its risks!

CREDITS
Composed By: J. J. Wren
Published By: Key Poulan Music
Duration: 7:05
---
MUSIC SAMPLES
Mvt. 0: "Complete Show Recording"

[ Download ]



Show Specific Add-Ons

General Add-Ons