American Celebrations (Simplified Version)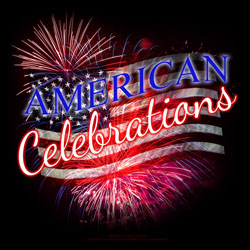 Style: Patriotic | Difficulty: 2+ | Grade: Medium Easy
Order Request Perusal / Pricing Other Questions


Americans have always made their love for their country clear. With the singing of the national anthem at major sporting events and flags flying all over the country, it's no surprise to hear famous patriotic music on a regular basis. Whether penned by a complete amateur or a master of their craft, each piece is special in its own right. Harmonies and lyrics have the power to move a person to tears and remind people of what a glorious nation the United States is.

CREDITS
Composed by: Key Poulan
Percussion by: Shawn Glyde and Dan Bryan
Originally commissioned by: Allen H.S., Allen, TX - Chuck Pennington, Director
Published By: Key Poulan Music
Duration: 7:15
---
MUSIC SAMPLES
Mvt. 1: "Star-Spangled Variations" is a clever adaptation of our National Anthem. Once the listener settles into a comfort level of familiar moments within the Star-Spangled, the melodies and harmonies twist and turn with great drama. As an interesting side note during the composition and arranging process, Key Poulan discovered he and Francis Scott Key have a common ancestor. Poulan's family had worked for over 40 years trying to determine the connection with the name Key and it goes back 11 generations to Key's Great (x9) Grandfather who was also Francis' Great (2x) Grandfather.

[ Download ]


Mvt. 2: "Chester" is a famous patriotic anthem originally composed by William Billings during the American Revolution. Billings wrote the first version of the song for his 1770 songbook The New England Psalm Singer, and made improvements for the version in his The Singing Master's Assistant (1778). It is the latter version that is best known today.

[ Download ]


Mvt. 3: "America the Beautiful" is considered one of the most popular songs in American patriotic history. Samuel Augustus Ward famously composed the hymn as an accompaniment of Katharine Lee Bates' poem titled Pikes Peak (1895). Ward's music combined with Bates' poem was first published in 1910 and was titled America the Beautiful. The conclusion of American Celebrations is strong and impactful and brings the audience to it's feet with great admiration of our country.

[ Download ]