Bermuda Triangle (Simplified Version)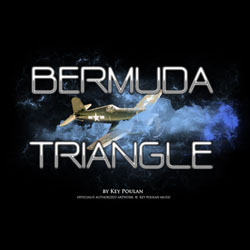 Style: Modern, Dark | Difficulty: Medium Easy | Grade: 2+ / 3-
Order Request Perusal / Pricing Other Questions


Few pilots in history have flown through the Bermuda Triangle and returned to tell their tale. Soaring melodies and expansive chords lift the ensemble into flight before dissonant harmonies and driving percussion signal entrance into the dangerous and mysterious Bermuda Triangle.

CREDITS
Composed by: Key Poulan, Mark Branson
Originally commissioned by: West Ranch H.S., Stevensen Ranch, CA - Jason Marshall, Director
Published By: Key Poulan Music
Duration: 7:30
---
MUSIC SAMPLES
Mvt. 1: "Into the Triangle and Off Course" begins with a carefree glide through the skies as the horizon expands out in front. Suddenly, something is wrong and the plane is not flying where it should be. The skies and clouds begin spiraling and turning, despite the fact that the plane itself continues forward… to where?

[ Download ]


Mvt. 2: "A Momentary Calm" is like flying in the eye of a storm—the skies have opened up, rays of sunlight poke through retreating storm clouds, and the chaotic turbulence has stopped. The beauty of the scenery almost overshadows the danger of being hopelessly lost over an endless expanse of ocean.

[ Download ]


Mvt. 3: "Lost in the Triangle / Vanished" opens with pulsing drums, like the terrified beating of the pilot's heart as they snap back to the danger of the present moment. The spiraling clouds and violent turbulence return, swallowing the plane into a mysterious wormhole that vanishes without a trace.

[ Download ]