Boo! In the Hall of the Mountain King (Simplified Version)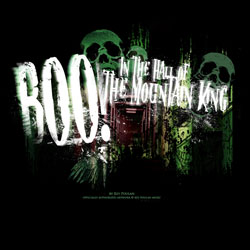 Style: Dark, Playful | Difficulty: Medium Easy | Grade: 2+ / 3-
Order Request Perusal / Pricing Other Questions


Boo! In The Hall Of The Mountain King is a journey into the mysterious and shadowy realm of the Mountain King. The main theme is inspired by Edvard Grieg's incidental music for the sixth scene of the 1875 Norwegian play Peer Gynt.

CREDITS
Composed by: Key Poulan, Shawn Glyde and Dan Bryan Originally commissioned by: Sandra Day O'Connor H.S., San Antonio, Texas - Roland Sandoval, Director Published By: Key Poulan Music Duration: 7:11
---
MUSIC SAMPLES
Mvt. 1: "In a Darkened Hall" is where one first senses the foreboding presence of the Mountain King. The cold, heavy air closes in while shadows play tricks of the eye down the walls—what was that brushing by just now in the dark?

[ Download ]


Mvt. 2: "Masked by Shadows" represents the growing feeling of dread as darkness overtakes light. Under the cover of shadow, the Mountain King stealthily approaches his frightened prey.

[ Download ]


Mvt. 3: "Mountain King" portrays a frenetic descent into madness and the macabre before the Mountain King himself is finally revealed in all his awful power and fury. Escape is no longer an option—submit to the will of the Mountain King, or succumb to his nightmarish wrath.

[ Download ]