Imagine (Simplified Version)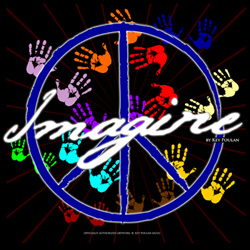 Style: Modern / Classical | Difficulty: Medium Easy | Grade: 2+
Order Request Perusal / Pricing Other Questions


Imagine asks us to visualize a world where all beings join together on a lifelong journey to preserve the most delicate aspects of human life through joy, love, hope and peace. All nations are united as one in thought, spirit and intent and focusing on the good of all humanity, realizing that unity is strength, knowledge is power and attitude is everything.

CREDITS
Composed by: Key Poulan
Percussion by: Lee Beddis and Ray Donato.
Originally commissioned by: The Magic Drum and Bugle Corps, Poinciana, Florida - Bruce Ziegler, Director
Published by: Key Poulan Music
Duration: 7:30
---
MUSIC SAMPLES
Mvt. 1: "Joy!" is a set of driving variations on the J.S. Bach theme of "Jesu, Joy of Man's Desiring," treated in a contemporary fashion and infused with an unexpected high level of energy, much unlike the serenity of the original.

[ Download ]


Mvt. 2: "Love and Hope" is a lushly romantic ballad overflowing with surging waves of expressive beauty. Although this movement was not part of the repertoire of The Magic's program in 2006, it completes the musical thought of relating every element of the show to Bach's brilliant work.

[ Download ]


Mvt. 3: "Peace!" euphorically ties all the prior themes together, once again referencing the Bach masterpiece and leaving us with a sense of optimism attuned to facing any challenges that might be thrown our way. This final piece highlights the theme of the entire show...that we have within our grasp the ability to turn the world into a happier and better place for all.

[ Download ]



Show Specific Add-Ons

General Add-Ons