Moto Perpetuo (Full Instrumentation)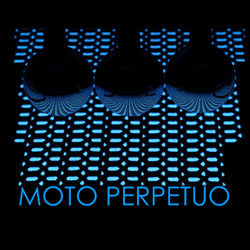 Style: Modern / Intense | Difficulty: Medium Difficult | Grade: 4+
Order Request Perusal / Pricing Other Questions


Inventors have long been fascinated with the concept of perpetual motion, the idea that something can be set into motion and remain in motion indefinitely. Moto Perpetuo explores that illusive theory with an underlying "heartbeat" that "pumps" throughout, musically demonstrating that something, somewhere in the show, is never static and is always in motion.

CREDITS
Composed by: Key Poulan
Percussion by: Brian Mason and Mike Jackson
Originally commissioned by: Santa Clara Vanguard Drum and Bugle Corps, Santa Clara, California - Jeff Pearson, Director
Published by: Key Poulan Music
Duration: TBA
---
MUSIC SAMPLES
Mvt. 1: "Chains of Reaction" starts off with a "big bang," an extended opening explosion of sound that generates further reactions throughout. Each time another reaction "pops," the music gets more frenetic and frenzied. A multitude of simultaneous meters concludes in a hurried marching tempo at near warp speed.

[ Download ]


Mvt. 2: "Newton's Cradle" continues the perpetual motion with quirky jazz romp inspired by the kinetic transfers of energy in the title creation, the toy where one stringed-up ball slams into another, causing the last ball to pop outwards. Each snippet of melody collides with the next, and the new snippet further collides with the following, causing each to generate the next burst of transferred energy.

[ Download ]


Mvt. 3: "Echoes of Time" is a romantic brass ballad, but with a twist. Dual and competing universes of brass and percussion echo motifs through altered explorations of sounds that hauntingly waft through time, doing to the music what Salvador Dali did with his paintings of drooping watches.

[ Download ]


Mvt. 4: "The Speed of Sight" is agitated and frenetic, the fast moving fragments seeming to wrap around each other as if encapsulating a mass of sound that is moving through a different plane of time. But can time handle the dichotomy? The very ending answers that question in a most unanticipated fashion.

[ Download ]



Show Specific Add-Ons

General Add-Ons